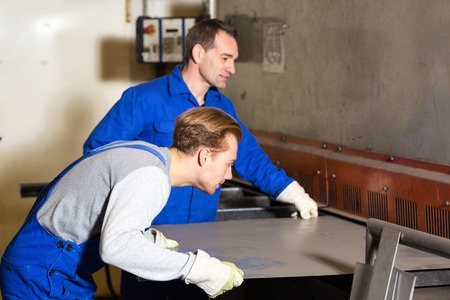 The construction industry hasn't always been associated with competitive wages or great benefits, but it really should be.
There are a number of positions in the field that make over $50,000 a year, and the earning potential only increases as you learn more and move your way up the ladder. Here's a look at three jobs with great earning potential you might not have considered.
Sheet Metal Worker. Sheet Metal Workers do everything from welding and shaping metals to roofing, construction and repair of HVAC systems. They're even responsible for stainless steel set-ups at hospitals and industrial kitchens. Work is sometimes performed in a warehouse, and at other times, a job calls for a welder on the job site. The scenery is constantly changing, and the work is always different. Follow the link to find out more.
Plumber. Everybody needs a plumber. At large corporations and residential homes alike, pipes leak, fixtures break and hot-water heaters go kaput. Fortunately, these wizards of the industry know how to address such common problems as well as not-so-common ones such as meeting building codes and battling faulty garbage disposals. A great way to get started is by picking up an apprenticeship, and Oregon is full of opportunity.
Ironworker. You know those buildings you pass every day on your way to work? They wouldn't exist if it weren't for the ironworkers who laid the steal beams, or skeleton, of the structure and made sure everything was welded together properly. These guys do it all, from installing intricate window frames 10 stories above the city floor to sealing connecting bars with oxy-acetylene torches. If you like getting a little dirty, this one's for you.
Want to learn about more professions in the construction industry? Visit Build-Oregon.com today to find out what fits your personality and work style best.